Conference Venue
Egret Himeji, the conference venue for AUTOMATA2014, is located between the railway station and the Himeji castle. It takes about 10 minutes walk from the Himeji railway station (please refer to the map below). The rooms for the workshop are on the fourth floor in Egret Himeji building.
You can also check the places for AUTOMATA 2014 (workshop venue, restaurants for lunch & dinner) at this page (googlemap).
Floor map (Egret Himeji, 4th Floor)
The workshop takes place in the Seminar room A on 7,8 July and in the meeting room 1-2 on 9 July. The registration desk and cloak is in meeting room 4-5-6. All rooms is at the 4th floor of Egret Himeji.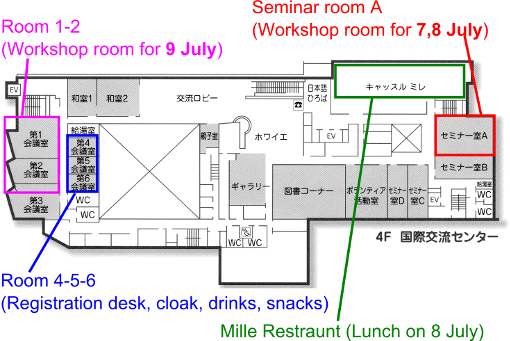 Travel Information
Many flights are available from outside of the Japan directly to Kansai International Airport(KIX). Also, many flights are connected from the airports in Japan, such as Narita International Airport(NRT) in Tokyo, to Osaka International Airport(ITM).
The most straightforward way for coming to Himeji from KIX and ITM is to take Airport Limousine bus. You can find the time tables from/to KIX in this page, and from/to ITM in this page. It takes about 120 minutes from/to KIX and about 80 minutes from/to ITM.
Note that, to take a bus from Himeji to KIX, your reservation (before the departure day) is necessary. For your reservation, please contact the workshop staffs at the registration desk.
It is also possible to take trains to come to Himeji. Please contact the workshop secretary. If you travel in Japan before/after the workshop, it could be useful to obtain your Japan Rail Pass.
Accomodation
Please refer to the Accomodation page.